Who goes to Honduras?
Who goes to Honduras?... is the question Amie and I asked ourselves as we entered into unknown territory. We have been on the move in recent days. We had no expectations as to what we would encounter in Honduras, but we were pleasantly surprised. We went to see the Mayan ruins of Copan. They were very interesting and contained many intact carvings and sculptures.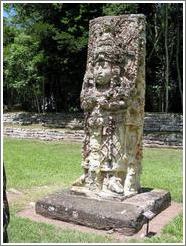 While Tikal was impressive on a macro scale, Copan was impressive on a micro scale. After the ruins, we spent most of our time in the Bay Islands. Where the heck is that, you ask? Exactly. We are in the middle of nowhere and it is beautiful!
Rotan is one of a few islands off the northern coast of Honduras.
We had a nice cabin in Roatan and it came with a kitchen. We were able to cook some of our first meals on the trip, which was nice. The beaches on Roatan are simply amazing. White sand beaches and crystal clear shallow water. The snorkeling was amazing as well. We took a day and rented motor scooters which was great fun and we were able to drive to the other end of the island. There were many great vista points and it was nice to be on the road a bit in something that was not a chicken bus. There is a huge scuba diving comunity here in Roatan because this is the cheapest place in the world to get certified. We stayed on the island and soaked in the sun on the beaches and rested up. Then we hit the road again and had a few 12 hour long days filled with boats, busses, and taxis. We made our way south. The further south we go the fewer tourists we encounter.
We crossed yesterday into Nicarauga. I sit and write this in the city of Leon.
You can see Leon on the map above. We will stay here and see what there is to see. Then, we'll head deeper still into Nicaragua, eventually passing back into the land of tourists and into Costa Rica. You can see a lake on the map south of Leon which is where we will head next, to the city of Granada.
Not many computers here, so posts may be few until we reach Costa Rica, but we are well and having an amazing adventure. Stay tuned for a bunch of great photos which I will post when I get a chance....
Jordan