Swimming with sharks
Today was one of those days that when it was happening you knew you would remember it for the rest of your life. After 2 days of delays because of rain we finally set off on our snorkel trip. A certain guide had been recommended to us and he was well worth the wait. We sailed out to the reef on a small sailboat and enjoyed the beauty of the coast.
When we reached the reef we saw about 7 or so sharks swimming around the boat. These are nurse sharks and are very docile. I had swum with them on my last trip to Belize and had told Amie this was one way to get over any of her fears concerning the ocean. The guide was very good at discussing how to behave with them. They do not have the big teeth of the sharks one sees in movies. These sharks are, for the most part, bottom feeders and totally docile. The family of sharks we swam with ranged from 3 feet to 7+ feet in length.
They would calmly swim up to you an let you feel their rough skin, which was like sandpaper. We felt no fear with these peaceful creatures but rather were overcome by a sense of beauty and calm as our group swam with and was followed by these sharks. It was absolutely a life changing moment. Swimming for an hour with a family of sharks guiding you through the coral reefs was unreal. It was beautiful and at the same time very intense.
We then sailed on to another spot called 'Hol Chan' (stopping along the way to swim with a giant turtle that must have been 4-5 feet accross). Here, there were schools of fish in electric colors, eels lurking, and rays swimming below.
We swam through forests of coral and colored plants that were beyond description. Photos do not do justice to the vast world we were surrounded in. It went on and on.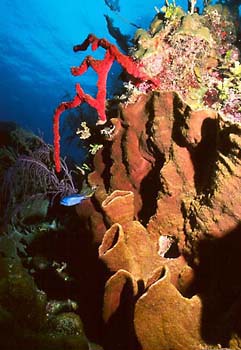 Instead of scary, the whole experience was peaceful. Much of that had to do with our amazing guide. He was a man who loves nature and explained everything to us in such a way that truly left us in awe.
It was a day we will never forget.
In the morning we will begin our trip to Guatemala, to the Mayan ruins of Tikal. When I get a chance I will post some of my favorite photos from our time in belize. Until then....
Jordan